Notice of Race
OPEN IOM Class NORDIC CHAMPIONSHIP 2018
7th to 9th of September 2018
Pdf of NOR can be found HERE
Venue
The IOM-class Nordic championship 2018  will be held in Risør, hosted  by Norsk Modellseilforening in cooperation with Risør Seilforening.
The racing area and launching area: see appendix A
Date and Program
Wed         Aug 15th                         Closing day for entries.
Friday     Sept 7th        1400 – 16:00      Registration and event measurement
                                   1600 – 19:00        Skippers meeting.
1610 – 19:00        Racing ( Start of racing may be delayed due to                                                                     arrivals with ferries.)
Saturday Sept 8th    1015:                 Skippers meeting
1030 –               Start of first heat
1700:                 No heat will be started after this time
1830:                 Social get together
Sunday Sept 9th     930                    Skippers meeting
945 –                  Start of first heat of the day
1430                  No racing after this time.
After racing:           Prize Ceremony.
Breaks:
On Saturday there will be a 30 min. lunch break between 12.00 and 13.00 and a break of 20 min around 15.30. On Sunday there will be a 30 min. lunch break between 11:00 and 12.00.
Organizing Authority
The IOM-class Nordic Championship 2018 is organised by Norsk Modellseilforening in cooperation with Risør Seilforening
Rules
The regatta will be governed by The Racing Rules of Sailing (RRS) as changed by the:
RRS Appendix E, this Notice of Race (NoR), the Sailing Instructions (SI), the IOM class rules, The Equipment Rules of Sailing (ERS).
The Sailing Instructions shall prevail in case of conflict with this Notice of Race. The English language version of these documents shall prevail.
Eligibility
Competitors shall comply with the requirements of RRS 75 and the additional requirements of the following clauses.
Registration/Measurement
Boats, together with their valid measurement certificates shall be presented for registration before its first start. However, the Race Committee may extend the time for registration and event measurement if there is a valid reason to do so. No boat shall be eligible for racing until it has been registered.
All boats may be subjected to event measurement. However the race committee may accept boats without a valid certificate, after an event measurement.
Notices to Competitors
The Official Notice Board will be situated in front of the sailing area.
Notices to competitors will be posted on the Official Notice Board.
Scoring and Racing System
The races will be carried out in accordance with the HMS.
Maximum number of entries are 40
There will be no more than 3 heats.
With maximum no of entries there will be 4 boats promoted.
With fewer than 34 entries 6 boats will be promoted
Heat selection for Race 1 will be based on the entry lists from each Nordic NCA, entries from outside countries will be distributed to the organisator's discretion
Entries
Entries are made by e-mail through NCA. NCA shall submit a prioritised entry list
NCA's are welcome to enter more than 8 candidates, however the following will apply when more than 8 entries are submitted.
Closing dates for all entries is  Aug. 15th 2018
Allocation of spaces:
Stage 1
Each Nordic NCA is allocated              8 spaces
Non Nordic entrants are allocated      8 spaces
Stage 2
Available spaces will be distributed among those NCA's that enters more than 8 entrants. According to the prioritizing from each NCA
Stage 3
Non Nordic entries will not be given additional spaces unless there are available spaces in stage 3.
Non Nordic entries will be given places in the order that the entries is received.
How to enter:
Nordic IOM sailors enters via their NCA, which in turn prepares a prioritized list
Non Nordic IOM sailors enters in the form which can be found HERE.            
Please indicate if you will attend the social event on Saturday.
The entry shall be in the hands of the Organisers no later than:
Aug 15th 2018
The entry fee of NOK 600,- shall be paid at registration.
(The entry fee includes a lunch both days.)
Jury
There may be a Jury consisting of one or more judges. In case of the absence of a jury each country nominates a prime/second candidate which will form a jury.
There may be umpiring on the water. Umpires are free to position themselves outside the control area to get a better view, and to use the means they feel necessary to conduct their duties. SI will detail the procedure.
Frequencies
Permitted frequencies are:
27MHz, 35 MHz (only a few allowed ), 40 MHz and 2,4 GHz.
Each competitor is required to have a minimum of 3 frequencies available.
Sailing area.
The sailing area is the area surrounded bu the yellow line, control area the jetty inside the sailing area. see picture below.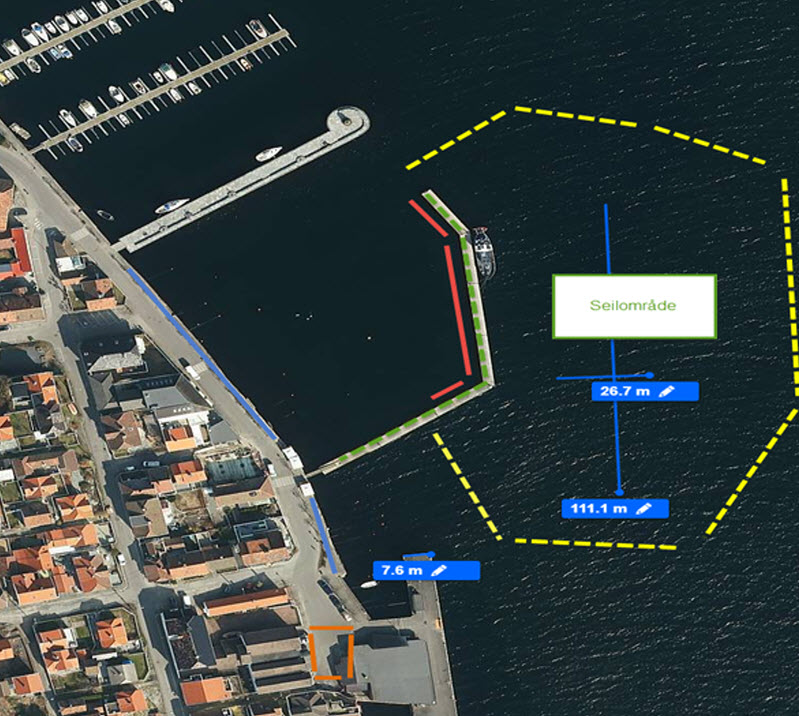 Course.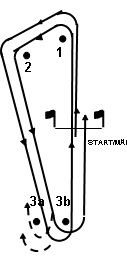 The course will be a windward leeward with two or one rounds. Windward mark will have an offset mark and the leeward mark will be a gate.
Prizes
Prizes will be given as following: 1 prize per 3 competitors starting
Liability
NMS and any other parties involved in the organisation of this event disclaim:All those entering or taking part in this race do so at their own risk and responsibility.
"Any and every responsibility whatsoever for loss, damage, injury or inconvenience that might occur to persons and goods, both ashore and on the water as a consequence of entering or participating in the race covered by this Notice of Race.
At all times the responsibility for the safety of their boats and themselves including the decision to participate or continue shall rest with the competitors."
By entering the event it is deemed that you accept these conditions.
Competitors are advised to ensure that they have adequate personal insurance that provides cover for public liability and their possible injury in the Country of this Championship.
Accomodation
Other information
A social event will be held in Risør on Saturday after the races, payed directly to the restaurant. We will try to organize a meny where one can chose between fish and meat.
Please indicate if you intend to participate and how many you will be and indicate fish or meat.
There will be an organized lunch included in the entry fee
Prize giving will take part as soon as possible after the last race
Ferries and distances:
Stockholm – Risør                   679 km              8:48 Traveltime
KBH – Risør                              650 km             8:33 Traveltime
Fyn Risør via Ferry
Odense –  Hirtshals                  315km           3:00 Traveltime
Ferry HirtsH- KRS                   dep. 11:45              arrival 13:00   (Fjordline)
dep.KRS                                      13:30
KRS –  Risør                               112km     Travel time 1:37, arr. Risør 15:30
Ferge Larvik HH                        dep 17:30 arr. 21:15 ( Color Line sunday evening)
---
Nordisk 2017
Nordisk for 2017 arrangeres av Danmark 28. og 29. oktober. Arrangementet vil foregå ved Roskilde. Lyngjøjsjøerne, Svogerslev ved Roskilde.
Notice of race finner dere under.
NM 2017 NoR
For Norges del har vi 8 sikre plasser, trolig flere siden Finnland ikke stiller.
De som er interessert sender mail til toklem (at) me.com eller tekstmelding til 91560447 med navn og nummer på båt.
Nordisk for IOM 2015, 18 og 19 april. Stockholm.

Nordisk for IOM arrangeres av Sverige og skal seiles i Stockholm, Lidingö. Frihamnen er reservested.
Notice of Race kan dere finne HER

Norge har 8 sikre plasser, men får sikkert flere. Det er viktig vi melder oss på alle som vil være med. Det blir ikke mulig etter at allokering er foretatt.

Dersom det er flere som ønsker å være med enn det det er plasser til er det gjeldenede rankingliste som gjelder. Den finne dere HER
Fristen for påmelding er over og 10 Norske seilere er påmeldt
Se hvem som er påmeldt HER
---
2014